Sorrent macht Spaß!
Warning
: Use of undefined constant php - assumed 'php' (this will throw an Error in a future version of PHP) in
/data/sites/web/applelanguagesde/www/blog/wp-content/themes/applev5/single.php
on line
27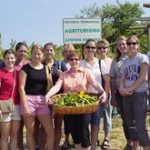 Ich bin in Sorrent an der schönen Amalfi-Küste und ich kann es einfach nicht glauben! Ich bin hier um Italienisch an einer Sprachschule mitten im Zentrum zu lernen und ich habe eine tolle Zeit. Warum sollte ich irgendwo anders Italienisch lernen wollen als hier? Das atemberaubend schöne Mittelmeer, super Wetter, Tausenden von Jahren an Geschichte und Kultur … und viel Spaß!
Na ja, eigentlich sollte es im Augenblick nicht zu viel Spaß machen, denn ich muss unter anderem das passato remoto in meinen Kopf bekommen! Aber ich bin total froh, dass ich hier bin und meine Lehrer sind großartig. Ich dachte fälschlicherweise, dass man reich sein muss um eine Sprache in dem Land zu lernen, wo sie gesprochen wird, aber es ist wirklich nicht so teuer und hier kann ich die Sprache richtig lernen! Ich kaufe reale Dinge in Geschäften, kaufen echte Bustickets, bestelle und essen eine echte Pizza und kann mich in realer Sonne bräunen!
Ich komme gerade aus dem Unterricht und ich denke ich werde jetzt einen Spaziergang die kleinen Gassen hinunter machen, die so charakteristisch für Sorrent sind. Heute habe ich einen freien Nachmittag, aber wir machen mit den Lehrern auch oft Tagesauflüge. Bisher haben wir die römischen Ruinen von Pompeji (ein wirklich ein einmaliges Erlebnis) und Positano (Strand, Shopping und leckerer Kuchen!) gesehen!
Ich habe vier Stunden Unterricht pro Tag, von Montag bis Freitag, und eine wirklich großartige Sache an der Schule ist, dass sie ein Arbeitszimmer mit Computer, Büchern und Zeitschriften hat, so das ich Hausaufgaben machen und mein Italienisch jederzeit in meiner Freizeit üben kann! Die Schule ist nicht nur ein guter Ort, um Freundschaften mit anderen internationalen Studenten zu schliessen, sondern auch um Italiener zu treffen die in den Abendkursen Japanisch, Spanisch, Französisch und Deutsch lernen! Ich habe un sacco ("eine Menge" auf Italienisch) interessante Menschen – Sprachschüler aus meinem Kurs und Italiener – getroffen!
Morgen, nach dem Unterricht, werden wir eine Mozzarella-Fabrik besuchen um zu sehen, wie dieser angefertigt wird. Das wird sicher spannend und lecker!
Ciao Ciao!!
A presto.
Lisa (UK)